Because this place is just amazing, here is a Cinque Terre travel guide to help you out a bit around the area. I posted tons of pictures from Cinque Terre! Find them here. It's time to give you a more detailed travel guide for this Unesco World Heritage Site.
How to get to Cinque Terre
The best way is to fly to Genoa or Pisa, both these cities are 100 km away from Cinque Terre. Then, you can take the train to La Spezia (1 hour train ride, around 11 Euros without booking it in advance) and then trains to any of the 5 villages, which are very close (10-15 minutes away).
We arrived in Milan, without a proper travel plan, and then we took the train. Wizz Air has a Bucharest – Pisa flight, but basically any flight to Italy could be a reasonable choice.
Pro Tip:
If you plan to take the train
from Milan
(a 4 hour ride), go on
Trenitalia
and book your train tickets in advance. Otherwise, you risk them being a lot more expensive, or not finding available tickets at all – which is what happened to us. If you book them 2 weeks in advance, it should cost around 15-Euros/ticket.
With some prior research and a good airline offer, you could get to Cinque Terre for only 80 Euros (a 50 Euros plane ticket to Milan + 30 round trip train tickets).
---
Where to stay in Cinque Terre?
Accommodation options are countless: 
Hostels
,
apartaments, hotels
 & 
Airbnb
.. We rented an apartment for 3 nights in La Spezia and paid 65 Euros each. A nice, clean apartment, with all the comfort you could need, nice owner, fully equipped kitchen (link
here
)
Based on your needs, you could find accommodation in one of the villages or in one of the two nearest cities – La Spezia and Levanto. Let me remind you the names of the 5 villages:
Monterosso
(the only one with a beach),
Vernazza
(probably the most photogenic),
Corniglia
(the one on top of 385 steps),
Manarola
(with it's beautiful sunsets) and
Riomaggiore
(with it's "Via dell'Amore" – " Lovers lane"). We chose La Spezia because it was more active during the night. All the shops in the villages close around
10-11 pm
.
---
Where and what to eat?
You really should try the local wines along with a cheese platter (for around 12 Euros), there are many options. Corniglia seemed to be the most expensive village, though I have to admit I checked only one restaurants' prices. Both in Levanto and La Spezia the prices seemed more decent, and in Riomaggiore you can find 2-3 food joints where you could get seafood and fries for only 5 Euros.
I strongly recommend you check this place out. It's called A Pie' de Ma', it's in Riomaggiore (where the 2 pictures from above where taken). You can choose from a list of ingredients and have them make you a custom delicious sandwich for only 5 Euros and the view (especially at sunset) is magnificent!
---
Tourist pass for Cinque Terre
If you like to get up early in the morning, enjoy hiking and you think you are going to travel back and forth between the 5 villages by train, I recommend you get a Tourist Pass for 12 Euros/day. Based on your needs, you could get the 2, 3 or 7 days version. The benefits of this pass include:
– free internet in train stations
– access to the blue trail (the coastal walks). Since Cinque Terre is an area prone to landslides, I advise you to check if the hiking paths are open or closed, before leaving.
– access to the history museum in Riomaggiore
– access to the Sciacchetra museum in Manarola
– access to Monterosso aquarium
You can find more details here.
PRO TIP: If you are lazy, just want to go to one of the villages, or go to La Spezia, just buy normal tickets. Instead of 12 euros you can pay just 4 (for the train ride)!
This map is going to help you
---
What to do in Cinque Terre?
Basically walk along the paths until you drop :), hike up the trails, enjoy great Italian food and wines, and watch the stunning sunsets.
I wouldn't recommend you to go to Cinque Terre if all you want to do is laying in the sun, because the beaches are not the best.
---
Budget
How much did I spend? 240 Euros including accommodation and train tickets (round trip Milano – La Spezia, rides between the 5 villages, airport transfer, etc).
Let me be clear: aside from the plane ticket, this is all the money I had and spent there and I didn't hold back on anything, so I think doing it even cheaper is possible. There were 7 of us (it was a bachelorette party trip), we spent 4 days in Italy and had a wonderful time.
For any questions, details and more info, you know where to reach me! I hope this Cinque Terre travel guide was helpful.
And don't forget: Travel & love, love to travel!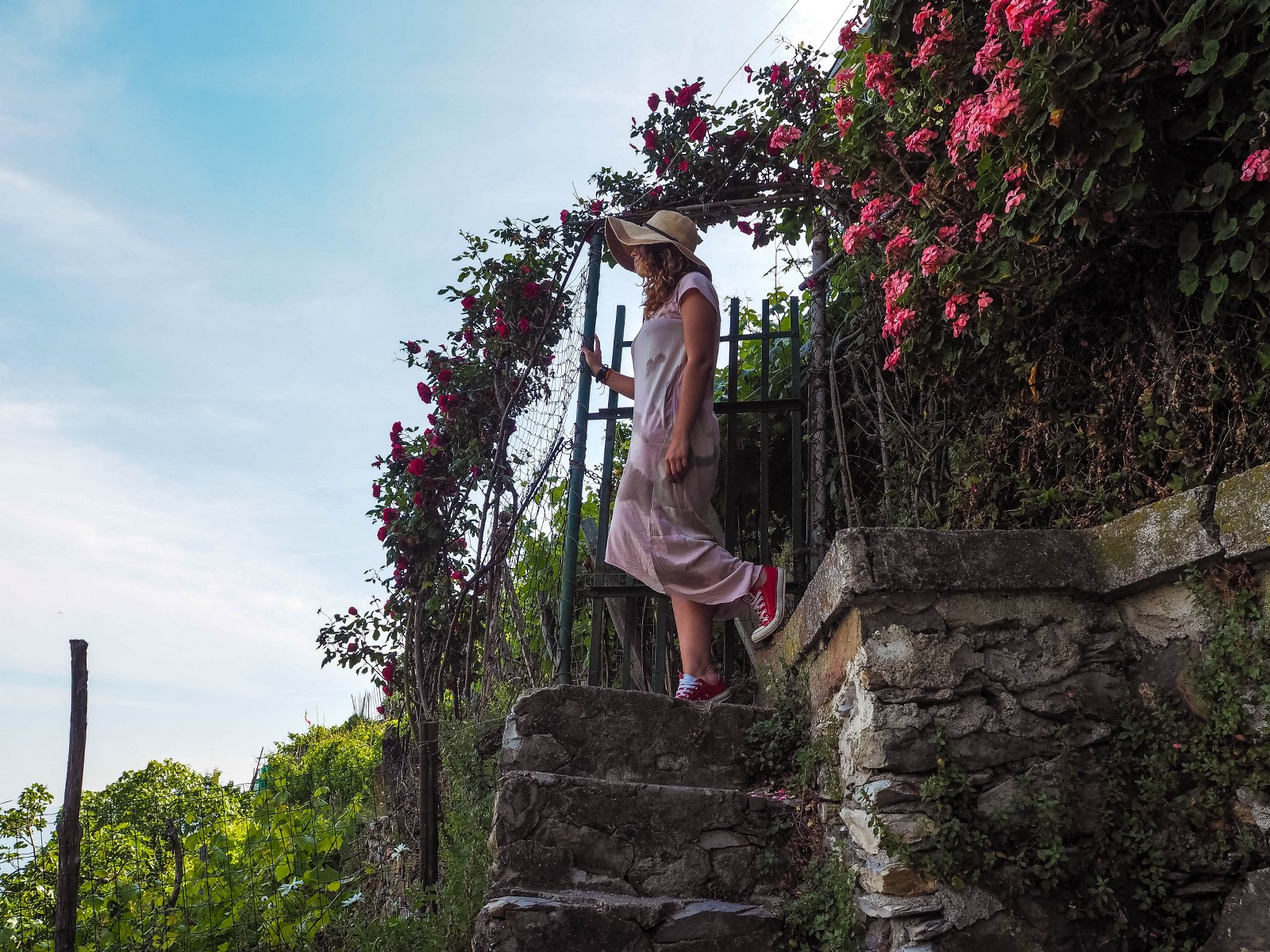 All pictures were taken with an Olympus OM-D M10.